For the final episode of the Sound Series I'm hoping to put together a showcase of work created in response to the exercises I've been offering throughout the series.
I'd love to receive your work by Thursday 24 September
You can send your responses to me at:
Or if you have any questions please don't hesitate to email me here.
If none of the exercises appeal, you could also send a recording of you reading a piece of your own work that you think is interesting in relation to sound.
Please see all the exercises below:
Sound Series 1 – James Woods and Nick Ascroft Exercise:
We talk quite a lot about rhyme in this discussion.
So, the exercise is simply this – turn on your recorder, say the line:
'I listened to a band called Flipper'
And see how long you can go rhyming words with 'Flipper'. Don't forget about half-rhymes and don't be afraid to change the end sound completely if it feels right. The idea is to try and keep composing for 2 minutes.
Sound Series 2 – Ruby Solly and Chris Tse Exercise:
This is an exercise where you compose in situ.
Take your recorder – it can be your phone – to a noisy place.
Turn your recorder on and respond to the sounds around you in spoken words.
It might take the form of a conversation with the noises in the environment you are in. Or the noises may form a backing track to your words.
Sound Series 3 – Cooki Aimee M and Eamonn Marra Exercise:
We talked a bit in this episode about sound that are 'difficult' or 'uncomfortable'.
So, this exercise is about discomforting sounds and is pretty straight forward.
Find a sound that is hard to listen to.
Play it over headphones while you speak for 45 seconds into a recorder. It might work quite well if you have it loud enough so you can't hear your voice.
The title of this work is the sound you listened to.
Sound Series 4 – Sinead Overbye and Charlotte Forrester Exercise:
What's the most beautiful word in the world?
Maybe you'd like to take a minute or two to write down words, word combinations or sentences that you think are beautiful.
Then you might like to record these.
You may like to miss out the step of writing down and try composing beautiful sounds out loud and on the fly.
Sound Series 5 – Brannavan Gnanalingam and Tokerau Wilson Exercise:
This is a free styling exercise.
Play either Tokerau or Brannavan's sound in headphones and record yourself composing along to it.
That simple. What happens when you have rain or ripping paper as a back beat?
Sound Series 6 – Carl Shuker and Simon Sweetman Exercise:
We talk a bit about writing about music in this episode.
So, take a song you like.
Now writer or speak for 3 minutes without using any words from the song – so, no lyrics and not the title.
Sound Series 7 – Kerry Ann Lee and Jackson Nieuwland Exercise:
I love the idea of using something wrong.
How about trying to make a poem out of noises that are not words.
Maybe you could get together several objects that make noise – placing a cup, tapping something, unscrewing a lid.
Write your poem in sound.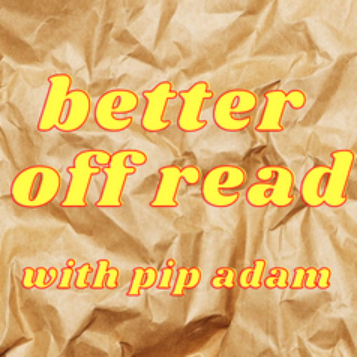 Ep 117: Beyond a Joke 8 – Dominic Hoey tells Pip Adam a funny story and they talk about Poor People With Money
–
Better off Read